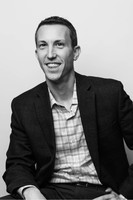 Ben Rosenzweig
Executive Chairman of the Board
Ben Rosenzweig is Executive Chairman of the Board of Directors at Ascent. He is also a Partner at Privet Fund Management LLC, an investment firm focused on event-driven and value-oriented investments in small capitalization companies. Prior to joining Privet, Ben served as an investment banking analyst in the Corporate Finance group of Alvarez and Marsal, where he completed multiple distressed mergers and acquisitions, restructurings, capital formation transactions, and similar financial advisory engagements across several industries. Ben is currently a member of the Board of Directors of Bed, Bath & Beyond Inc., PFSweb, Inc., Potbelly Corp., and Hardinge, Inc. He formerly served as a member of the Board of Directors of Startek, Inc., Cicero, Inc., and Relm Wireless Corporation. Ben graduated magna cum laude from Emory University with a Bachelor of Business Administration degree in Finance and a second major in Economics.
Christopher Hutter
President and CEO, Board Member
Chris Hutter is President and Chief Executive Officer at Ascent. He is also Co-Founder and Manager of UPG Enterprises LLC, a successful high-growth operator of eight premier industrial companies across the metals, manufacturing, distribution, and logistics sectors. Chris founded UPG on the premise that focusing on culture, respect, technology, and growth creates a best-in-class organization. He received a Bachelor of Science in Finance from the University of Illinois Urbana-Champaign and an MBA in Finance from Lewis University.
Henry L. Guy
Board Member
Henry Guy is currently the Chief Investment Officer (CIO) for Pittco Management LLC, the single-family office of AutoZone founder – Pitt Hyde. As CIO, Henry is responsible for oversight of Pittco's entire investment portfolio, including sourcing, evaluating, and monitoring investments. Prior to joining Pittco, Henry served as President & CEO of Modern Holdings Inc., a diversified holding company with assets primarily in the United States and Sweden. Henry began his professional career as an officer in the United States Navy. Henry's public director experience includes serving on the boards of Evermore Global Advisors, Pergo AB, Metro International S.A., Scribona AB, & Miltope Corporation. He also served on the nominating committee of Swedish public company Investment AB Kinnevik. In addition, Mr. Guy serves as a director of The Max Stenbeck Charitable Fund and on the Board of Visitors of Vanderbilt University's Owen Graduate School of Management. Henry holds a Bachelor of Science degree from the United States Naval Academy and a Master of Business Administration from Vanderbilt University.
John Schauerman
Board Member
John P. Schauerman has served on the Board of Directors of Ascent since June 2020. He also serves on the board of Primoris Services Corporation, The State Group, and the Dean's Executive Board at UCLA Samueli School Of Engineering. Previously, John served on the Board of Myer Group, and Wedbush Securities. John was EVP and Chief Financial Officer at Primoris Services Corporation, and Senior Vice President at Wedbush Securities. He received a Bachelor of Science in Economic Engineering from the University of California, Los Angeles and an MBA from Columbia University.
Aldo Mazzaferro
Board Member
Aldo Mazzaferro is an equity research analyst with over 35 years of experience covering the global steel and metals sectors at several large Wall Street firms. He retired as Managing Director and Senior Analyst at Macquarie Capital (USA) in 2017. Since then and currently, Aldo operates a research and consulting practice, sits on the boards of two metals and mining companies–including Arctic Canadian Diamond Company and Ascent Corporation–and is a partner in a real estate development investment firm. Aldo held significant senior research positions on Wall Street, including Vice President at Goldman Sachs for 8 years (2000-2008), where he led a globally recognized steel research franchise, and as Senior Analyst at Deutsche Bank for 12 years (1987-1998). He worked in the steel industry in 2008, joining Steel Development Co., LLC, a start-up company planning to build and operate a series of new, high-technology steel micro-mills. Aldo was Chief Financial Officer there from 2008 to 2011, and subsequently joined Macquarie. Over the course of his career, he was selected six times by Institutional Investor Magazine as an All-Star Steel Analyst and was ranked four times by The Wall Street Journal for superior stock picking. He was designated a Chartered Financial Analyst (CFA) in 1984. Aldo graduated in 1976 from Holy Cross College in Worcester, Massachusetts with a Bachelor of Arts in English, and graduated in 1981 from Northeastern University in Boston, Massachusetts with a Masters of Business Administration in Finance.